FUKUSHIMA - 13 mai 2011 - Quoi de neuf N°50 - Dernières nouvelles - NATURE(S)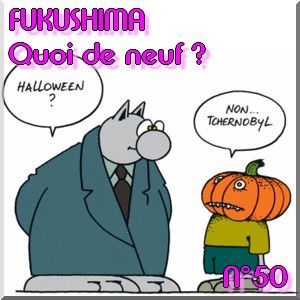 FUKUSHIMA - ACTUALITES NUCLEAIRES EN DIRECT - REVUE DE PRESSE - DOCUMENTS

EN DIRECT Clic ! Suivi de l'actualité de la catastrophe de FUKUSHIMA en DIRECT (optimisé Firefox, Chrome, Opera)
Alors que la situation se dégrade à Fukushima, la France continue de faire cavalier seul en refusant d'intégrer terrorisme, crash d'avion et erreurs humaines dans ses futurs stress-tests. La pression européenne s'accroît, tandis que ça et là des "missions cocorico", en total décalage avec la réalité, se promènent. Psychédélique !
Ecrire un commentaire - Partager

FUKUSHIMA - Accident maximal dans le réacteur n°1

"On s'en doutait depuis longtemps, mais voir la chose admise par l'opérateur TEPCO de la centrale Fukushima fait un effet sidérant : le cœur fondu du réacteur n°1 a percé sa cuve en de multiples endroits ! Ou pour le dire avec les circonvolutions de l'opérateur : « des trous ont été créés par le combustible nucléaire fondu au fond de la cuve du réacteur n°1 » (1). C'est, en clair, l'accident maximal pour un réacteur de ce type. L'enceinte ultime, autrement dit la cuve pressurisée dans laquelle est enfermé le combustible nucléaire, cuve censée être le dernier rempart contre l'émission de radioactivité vers l'extérieur, est rompue !
.../...
En particulier, il avait attiré notre attention sur la fragilité des aciers inoxydables utilisés à la centrale de Fukushima. Ce spécialiste ne voyait pas comment l'inox employé à Fukushima (le 304L selon la terminologie des spécialistes (2)) allait pouvoir résister, notamment dans le « cuvelage du réacteur lui-même. Les fissures, elles sont en train de courir ! » assurait-il. C'est un problème archi-connu (et redouté !) par tous les chaudronniers du monde ». Et de préciser que « le seul inox qui tient le coup (904L (3)) n'a connu qu'un réel essor qu'après 1995, dans l'industrie en général, avec une petite entrée dans le nucléaire, qui ne peut pas facilement intégrer ces nouveaux matériaux. Les études métallurgiques sont très poussées et demandent du temps ».
.../...
http://sciencepourvousetmoi.blogs.sciencesetavenir.fr/archive/2011/05/12/fukushima-suite-36-accident-maximal-dans-le-reacteur-n-1.html

Ecrire un commentaire - Partager
LIBERATION
Europe : pas de fusion pour la sûreté nucléaire
Réunis hier à Bruxelles, les responsables européens de la sûreté nucléaire ne sont pas parvenus à s'entendre sur la nature des «stress tests» (tests de résistance aux risques) qui devront être menés sur les centrales nucléaires européennes dans la foulée du drame de Fukushima
http://www.liberation.fr/terre/01012337139-europe-pas-de-fusion-pour-la-surete-nucleaire
AGEFI.COM (Suisse)
Comment le WWF envisage l'après-Fukushima
L'organisation s'oppose à la construction de nouvelles centrales à gaz pour compenser la perte de poids du nucléaire. Le salut doit passer par des taxes incitatives.
Le scénario d'approvisionnement énergétique de la Suisse post-Fukushima peut écarter l'énergie nucléaire dans un délai de 15 à 25 ans, proclament le WWF, Greenpeace, Pro Natura, la Fondation suisse de l'énergie (FSE) et l'Association transports et environnement (ATE). Les organisations présentaient, hier à Berne, leurs propositions pour concrétiser le tournant énergétique.

CENTPAPIERS.COM
Depuis la catastrophe de Fukushima, les pays du monde entier ont décidé de vérifier la sécurité de leurs centrales nucléaires, et ont accepté qu'elles soient contrôlées par des experts indépendants.
Tous…sauf la France qui fait vérifier ses propres centrales par ceux là même qui les exploitent.
L'ASN a rendu public le cahier des charges, lequel a été limité, à cause « du timing imposé par le gouvernement ».
.../...
Cette situation a provoqué la colère de Nikolaus Berlakovich, ministre autrichien de l'environnement, lequel a dénoncé la faiblesse de ces vérifications, déplorant qu'elles ne s'attardent pas sur le risque terroriste ou informatique.
Il a ajouté : « ça n'a aucun sens si les centrales nucléaires se testent elles–mêmes ».
http://www.centpapiers.com/nucleaire-la-cible-terroriste-2/69900
Ecrire un commentaire - Partager
Romandie News
Fukushima: le gouvernement japonais décide d'un plan de sauvetage de Tepco
TOKYO - Le gouvernement japonais a dévoilé vendredi les détails d'un plan de sauvetage de l'opérateur de la centrale de Fukushima, Tokyo Electric Power (Tepco), afin de l'aider à indemniser les victimes de l'accident nucléaire.
http://www.romandie.com/news/n/_Fukushima_le_gouvernement_japonais_decide_d_un_plan_de
_sauvetage_de_Tepco130520110305.asp
______________________________________ZONE CONTAMINEE_________________________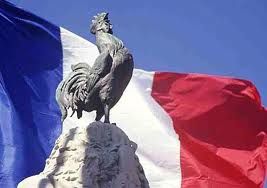 Concours pour le palmarès du Festival Sarkocorico 2011
NORD LITTORAL
Avant le Tricastin, La Hague, Flamenville et Fessenheim, hauts lieux nucléaires français, une délégation de parlementaires était hier à la centrale de Gravelines.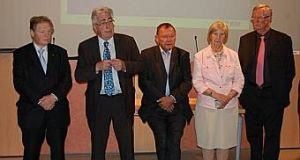 Missionnés par l'Office parlementaire d'évaluation des choix scientifiques et technologiques (OPECST), huit députés et autant de sénateurs, de tout bord politique, sont chargés de rédiger d'ici fin juin un rapport sur la sécurité nucléaire en France.
A l'issue de leur journée, où ils ont rencontré tour à tour les membres de l'Autorité de sûreté nucléaire, les syndicats et les représentants de la commission locale d'information, ils ont fait part de leur optimiste : « A Gravelines, EDF a été particulièrement réactif et a déjà tiré les premières leçons de Fukushima », se félicite Claude Birraux, député de Haute-Savoie et président de l'OPECST
La sénatrice du Pas-de-Calais, Brigitte Bout, avouera même être ressortie de la centrale complètement rassurée. « Le nucléaire fait toujours peur mais en visitant la centrale, on se rend compte que les risques sont vraiment minimes. » Impressionné lui aussi par la qualité des installations Gravelines, Bruno Sido, sénateur de la Haute-Marne, a tenu à faire un cocorico : « En sortant d'ici, on a envie de chanter La Marseillaise pour toute l'humanité. » Avec un président de la République nucléocrate et des parlementaires enthousiastes, le nucléaire a encore de beaux jours en France.
http://www.nordlittoral.fr/actualite/Info_locale/article_1401439.shtml
Ecrire un commentaire - Partager
ça boursicote...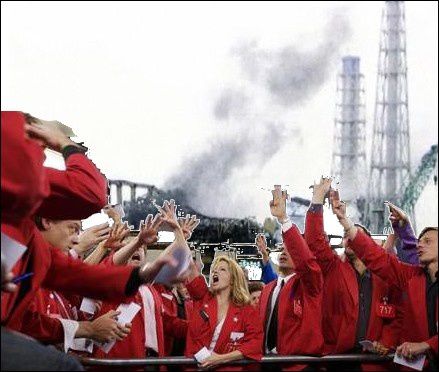 Collage - salle de marché sur fond japonais (2011)

VOTRE ARGENT
Aurel BGC remonte son opinion sur EDF de 'vendre' à 'conserver' et son objectif de cours de 25 à 28 euros, considérant que 'les risques s'éloignent doucement'.
L'analyste souligne que depuis sa dernière valorisation après les événements de Fukushima, les hypothèses sur le prix de vente de l'énergie nucléaire ont été précisées.
'Contrairement à ce qui aurait pu être envisagé, les audits post Fukushima ne devraient pas conduire à des arrêts de production au cours des prochains mois', estime-t-il par ailleurs.
'Sans préjuger des recommandations de l'ASN après la réalisation des audits de sureté il semble que plusieurs tranches pourraient être exemptées d'investissement additionnel', ajoute le bureau d'études.
http://votreargent.lexpress.fr/bourse/fiches-valeurs/edf-aurel-bgc-n-est-plus-a-vendre-avispro_157264.html
_______________________________________________________________________________
Un peu d'air frais...
NOVETHIC (relate l'intervention de Greepeace à l'AG de PARIBAS)
A quel prix financer le nucléaire ?
Au centre de seson combat anti-nucléaire, Greenpeace place la lutte contre le financement de nouvelles centrales. Pour ce faire, elle attaque de front les banques et plus particulièrement BNP Paribas , premier financeur mondial du nucléaire. De son côté, la banque fait valoir qu'un mois avant l'accident de Fukushima, elle avait déjà publié une politique d'investissement dans le nucléaire encadrant les conditions d'accès au financement de ce secteur.
Une quinzaine de militants de Greenpeace sont venus déposer devant l'assemblée générale du groupe BNP Paribas, le 11 mai à Paris, un gâteau géant destiné à souligner que, deux mois après Fukushima, « le nucléaire sûr n'existe pas ». Si l'ONG environnementale a choisi de cibler la banque, c'est pour expliquer à un public, le plus large possible, que le développement du nucléaire repose sur la possibilité de trouver des financements et que les nouveaux réacteurs EPR ne se vendent qu'à condition d'assortir leur construction de prêts accordés par des banques privées mais bénéficiant des garanties d'Etat délivrées en France par la Coface. « Les réacteurs coûtent très chers, entre 5 et 10 milliards d'euros » explique Sophia Majnoni en charge du nucléaire à Greenpeace France. « Il y a un « push commercial » dans des pays émergents porté par le gouvernement français et relayé par les grandes banques françaises, BNP Paribas mais aussi Société Générale et Crédit Agricole. Cela signifie que les projets ne se réalisent que si le promoteur apporte aussi un financement d'ordre privé. C'est ce mouvement que nous voudrions stopper pour que ces financements se tournent au contraire vers d'autres sources d'énergie renouvelables.»
http://www.novethic.fr/novethic/finance/debats/a_quel_prix_financer_nucleaire/133858.jsp
Bien ! NOVETHIC :
NOVETHIC :
Le C to C...
Le Cradle to Cradle enfin publié en France
La traduction française du best-seller Cradle to Cradle arrive dans les rayons des librairies françaises. L'occasion de diffuser plus largement ce concept d'écologie-industrielle encore peu connu en France.
Le best-seller Cradle to Cradle est enfin traduit en français. Publié pour la première fois en 2002, l'ouvrage du chimiste allemand Michael Braungart et de l'architecte américain William McDonough a d'ores et déjà séduit 50 millions de lecteurs aux quatre coins du globe. Traduit dans plus de vingt langues, il arrive cette semaine dans les rayons des librairies françaises.
Le concept de ces pionniers de l'écologie industrielle « nouvelle génération » peut se résumer ainsi : rien n'est déchet, tout est nutriment. Autrement dit, le Cradle to Cradle (littéralement, « du berceau au berceau »), est un processus « qui met en œuvre à la fois l'analyse chimique des éléments à utiliser et un système social fondé sur la restitution », dixit Michael Braungart en introduction de son ouvrage. Une philosophie que les deux auteurs tentent de diffuser auprès des industriels du monde entier, notamment via leur laboratoire hollandais Environmental Protection and Encouragement Agency (EPEA).
Un réseau Cradle to Cradle à étendre
Les entreprises converties au C to C ne parlent d'ailleurs plus de « cycle de vie » d'un produit, mais bien de « cycle d'usage ». Car une fois sa phase d'utilisation terminée, un produit C to C doit être facilement démontable, et ses composants, réutilisables à l'infini. Sur le papier, l'idée est forcément séduisante. Mais garantir un usage circulaire des produits industriels suppose une implication des entreprises et une collaboration inter-sectorielle inédites. « Il s'agit de maîtriser parfaitement la toxicité et l'empreinte écologique des matériaux, de revoir la conception des produits, pour qu'ils soient aisément montables et démontables, de garantir leur reprise en fin d'usage et de mettre en place des filières de recyclages spécifiques », témoigne Hélène Babok, directrice développement durable de Steelcase France. Le fabricant international de mobilier de bureaux a été parmi les premiers à engager une stratégie globale Cradle to Cradle. Et si une cinquantaine de ses produits certifiés C to C sont déjà sur le marché, la généralisation du processus à l'ensemble de sa gamme reste un travail de longue haleine. « Nous rencontrons quelques difficultés à récupérer des données toxicologiques auprès de nos fournisseurs, ajoute Hélène Babok. Car certains produits, comme un siège de travail par exemple, comptent plus de 150 composants, et chacun de ces composants peut faire intervenir jusqu'à 60 substances chimiques. Par ailleurs, la fabrication de ce siège fait intervenir une quarantaine de fournisseurs environ, qui eux mêmes collaborent avec nombre de fournisseurs.» La mise en place de filières de collecte et de recyclage suppose quant à elle d'établir des partenariats, notamment pour en supporter le coût économique. Spécialisé dans la collecte et le traitement des déchets, le groupe hollandais Van Gansewinkel, qui se définit également comme fournisseur de matière première et d'énergie, travaille ainsi avec plusieurs partenaires Cradle to Cradle (Phillips, Van Houtum Papier, le fabricant de moquettes Desso, etc.) pour boucler la chaîne de vie des produits. De l'avis de tous, le sourcing des données est à améliorer et le partage d'expérience à encourager. « Nous sommes dans un processus d'amélioration continue » résume Hélène Babok.
Le Cradle to Cradle séduira-t-il les français ?
Lire la suite
http://www.novethic.fr/novethic/planete/environnement/produits_ecologiques/le_cradle_to_cradle_enfin_publie_en_france/132975.jsp

RESUME DU LIVRE
.../...
En effet, les deux auteurs de Cradle to Cradle, entendez du Berceau au Berceau - et non plus du berceau à la tombe ! - militent depuis plusieurs années pour une « éco-efficacité » qui ne mettrait plus la croissance économique et l'écologie dos-à-dos : plutôt que de chercher à réduire notre consommation, créons un modèle industriel basé sur une sorte de compostage appliqué à tous les objets, imitant ainsi l'équilibre des écosystèmes naturels.
Loin des habituels discours catastrophistes sur l'avenir de notre planète, Cradle to Cradle propose des solutions concrètes qui peuvent faire de nos déchets d'aujourd'hui nos ressources de demain.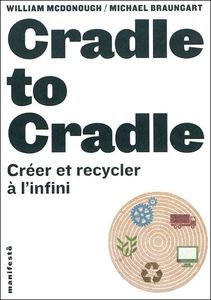 Du berceau au berceau, en anglais Cradle to cradle, aussi abrégé en C2C, est une partie de l'éco-conception mais surtout est un concept d'éthique ou de philosophie de la production industrielle qui intègre, à tous les niveaux, de la conception, de la production et du recyclage du produit, une exigence écologique dont le principe est zéro pollution et 100 % recyclage.
En simplifiant, un produit fabriqué doit pouvoir, une fois recyclé, produire à nouveau le même produit, seul un ajout d'énergie renouvelable intervenant dans le cycle.
Label
Le concept a été mis au point par le chimiste allemand Michael Braungart et l'architecte américain William McDonough. Le concept C2C distingue deux types de produits : les produits de consommation, conçus pour nourrir l'écosystème après usage, et les produits de service conçus pour devenir des nutriments techniques réutilisables à 100% pour la production de nouvelles générations de produits et de service.
Un label C2C est attribué aux produits respectant les exigences de production du berceau au berceau.
http://fr.wikipedia.org/wiki/Du_berceau_au_berceau
A SUIVRE DANS LA JOURNEE...

EN DIRECT Clic ! Suivi de l'actualité de la catastrophe de FUKUSHIMA en DIRECT (optimisé Firefox, Chrome, Opera)
Partager cet article
Pour être informé des derniers articles, inscrivez vous :